July 25, 2023
Welcome to the very first VML Newsletter! This will be a biweekly newsletter that will provide the latest updates on the VML and other exciting things people of marginalized gender are doing in the larger Magic community.
The VML has just wrapped up our 10th season, and the top 8 had a lot of strong competitors, but ultimately it was Amanda Cossai who took home the trophy with her rock solid Dimir Aggro deck! This sets the stage for the first ever VML Championship in August . The top 8 players from VML seasons 8, 9 and 10; for a total of 24 players, will compete in two days of Standard and Lord of the Rings Booster Draft for one of two invites to the next Pro Tour! Keep an eye out over the next couple weeks to learn more about the incredible players who qualified for this tournament.
If you're looking for more VML Content before then, we've got you covered. Just this week we've started up regular streams on the VML Twitch channel, and you can see the schedule below: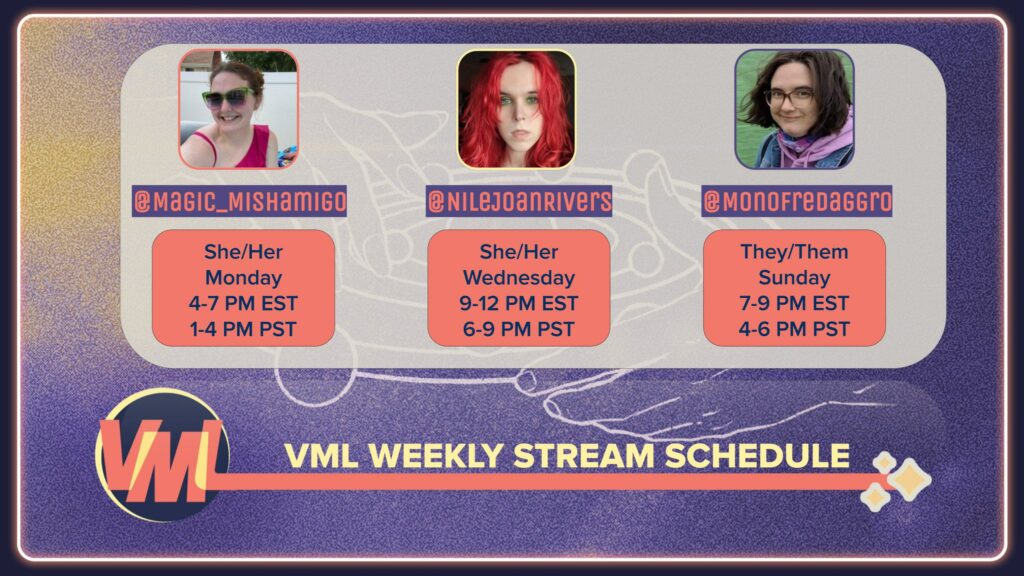 Featured Creator
This flows nicely into what will be a regular feature of this newsletter, our featured content creator. This week you can learn a little more about a member of the VML Stream Team: Nile!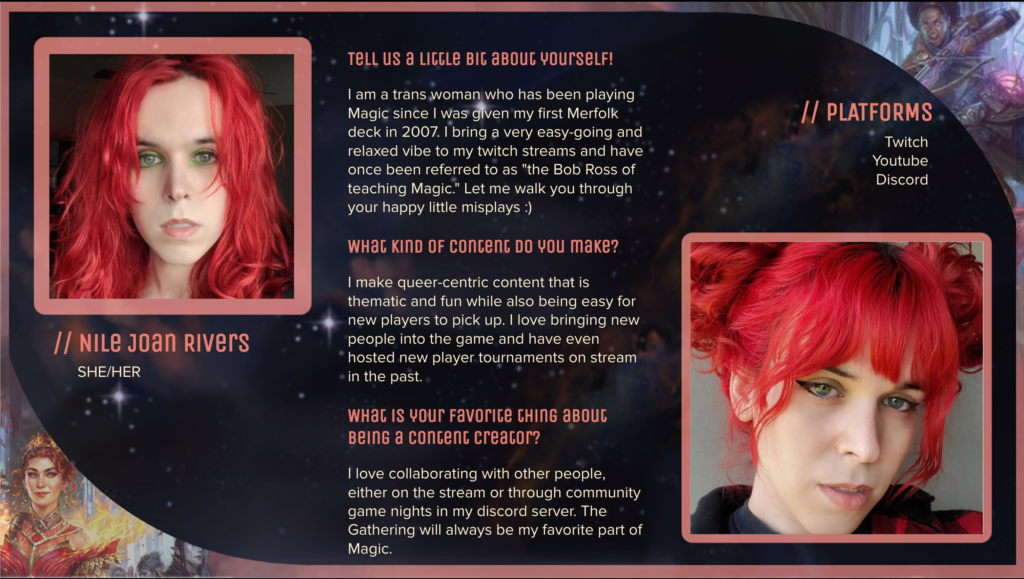 You can find her and her content on Twitch, Youtube, Twitter, BlueSky, and Discord!
Looking Ahead
There are many exciting events coming up for players of marginalized gender in the broader community:
Pro Tour The Lord of the Rings is coming up next weekend, with many incredible players of marginalized gender competing!
Birds of Paradise, a collective of women who are Magic content creators, will be hosting charity streams on Twitch every Tuesday and Thursday in July and August.
GenCon is coming up and there will be incredible content creators there including Bobby-Christine, a member of Birds of Paradise, who will be working with MagiKids.
Summer is sometimes a slow time in the Magic community, but right now there is a lot to be excited about!